Find venues, get booked, and get paid in
The take control of your career. Make your pitches more effective.
Be discovered, share your art. Not for the lovers of status quo.
Find & pitch the right Venues – Local or Touring
For me it's a no-brainer. A NO BRAINER. It's a game-changer! "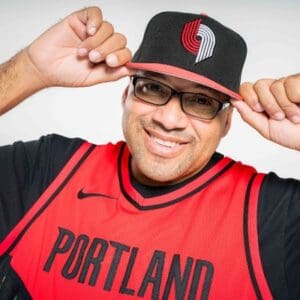 Official DJ to the Blazers NBA team, Community Leader, Board Member to Music Portland
Save time and money with AmptUp.
Our entire mission revolves around you and making you more successful. We'll personally walk you through how to set up your profile and give you a full tour.
FOR LOCAL OR TOURING MUSICIANS
Get the gig, save time, be more effective. Every feature is designed to streamline and empower you to grow your music career.
Find and pitch Venues in half the time
Use our Tour Routing Tool to pin points on a map, and create a custom pitch list for your tour or local shows with the contact information for over 5,000 Venues (in TX, LA, AK, TN, OR, WA alone!).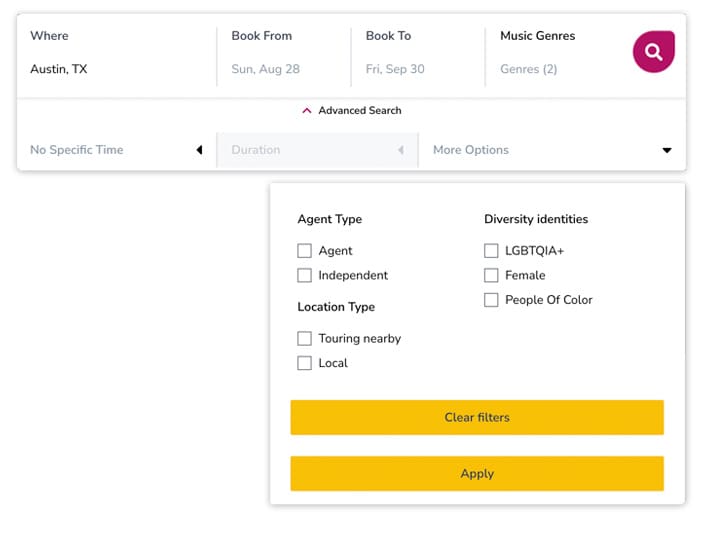 Venues can search for Musicians "touring nearby" to find you. Input your desired tour points and dates on the map, and Venues can find you and fill in the gaps on your schedule.
Get all the info you need minus the annoying back and forth
Start every conversation knowing what you'll get paid, soundcheck and load in times, backline info, and more all in one place… before you even say yes. Never miss another important detail buried in emails.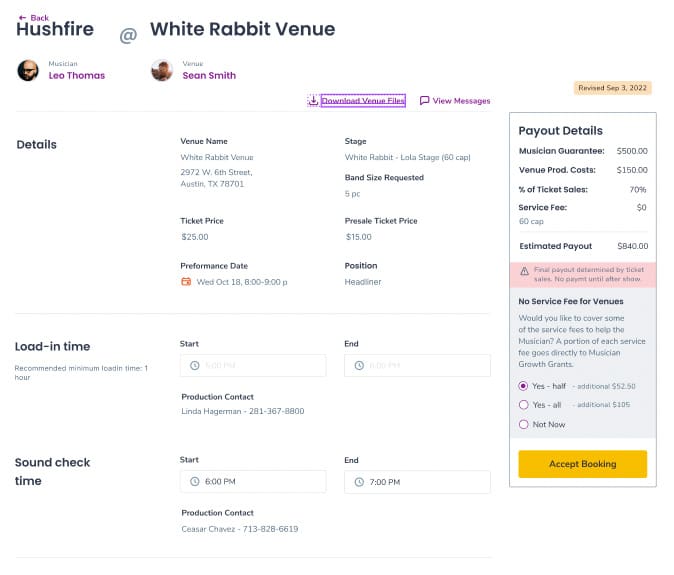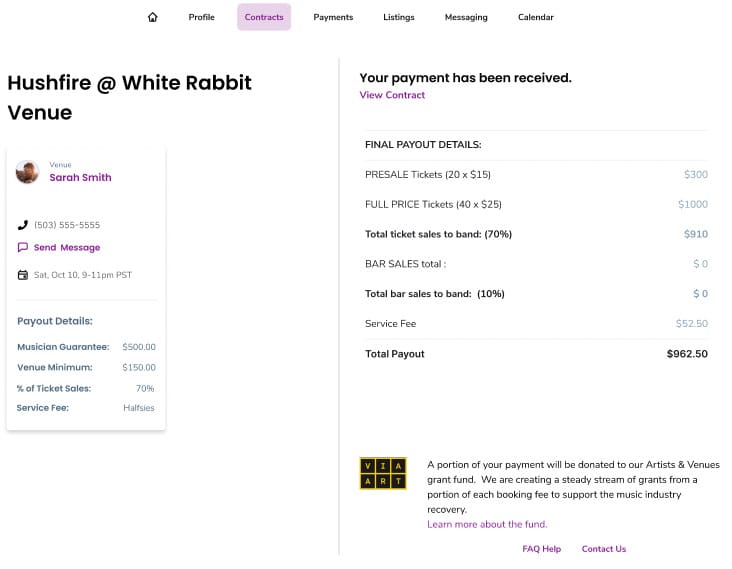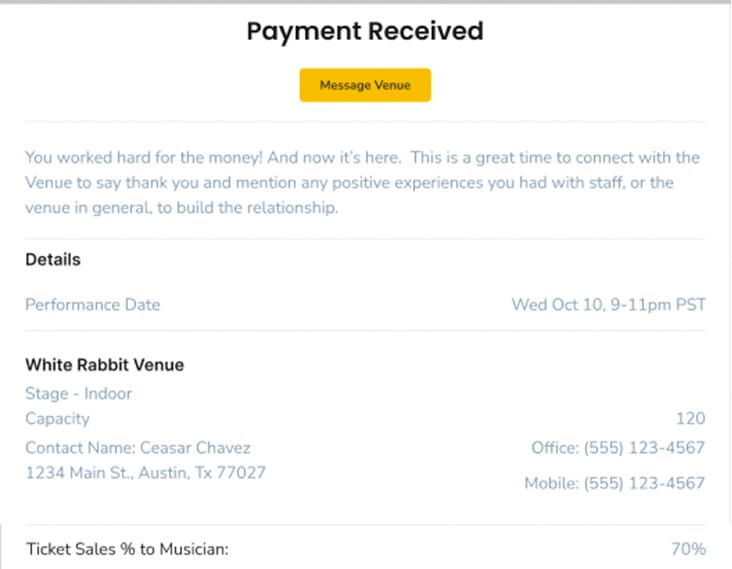 Stop chasing money at 2am
Getting paid through AmptUp will be the fastest and easiest payment you've ever received. No more W9s, or hanging around til 2am, the money goes straight into your account when the show's over.
There are hundreds of sites for Musicians, how is this different? Most of our tools don't exist anywhere else.
| | Amptup | GigSalad | Indie on the Move | Reverbnation | Prism | Sonicbids | GSuite |
| --- | --- | --- | --- | --- | --- | --- | --- |
| No Subscriptions | ✅ | ❌ | ❌ | ❌ | ❌ | ❌ | ✅ |
| Route Tours on Map | ✅ | ❌ | ❌ | ❌ | ❌ | ❌ | ✅ |
| Easy Contract Every Time | ✅ | ❌ | ❌ | ❌ | ✅ | ❌ | ❌ |
| Get Paid Online | ✅ | ❌ | ❌ | ❌ | ✅ | ❌ | ❌ |
| Flat-Fee or Ticket/Bar Sales Payment | ✅ | ❌ | ❌ | ❌ | ❌ | ❌ | ❌ |
| Manage Multiple Bands at Once | ✅ | ❌ | ❌ | ❌ | ❌ | ❌ | ❌ |
| Automatically Receive Advance Details | ✅ | ❌ | ❌ | ❌ | ❌ | ❌ | ❌ |
| Invite Your Team | ✅ | ❌ | ❌ | ✅ | ✅ | ❌ | ✅ |
| Manage ALL Your Gigs in One Place | ✅ | ❌ | ❌ | ❌ | ❌ | ❌ | ✅ |
"You've left no stone unturned in terms of preventing all of the bad things that can happen, and I've definitely experienced all of those things. This is a really great platform, especially in all of the darkness we've all been through recently, it's a little light of hope, especially in how you're building it on community, you're connecting and empowering Musicians."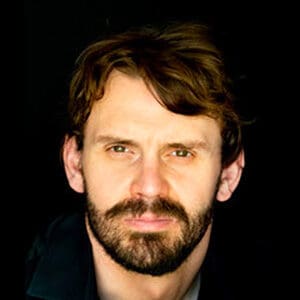 Beat Root Revival, Nationally Touring Musician, Austin, TX
Does AmptUp go between me and the Venue, or do I work with them directly?
You have direct access to the Venues – we want you to build that relationship! You communicate with the Venue just like you always have. We simply provide the technology to make your current process smoother and faster, giving you more time to plan and promote the show.
Can I still book my favorite Venues off the platform if I don't want to pay the 10%?
Of course! AmptUp was specifically designed to give you the most flexibility, while still letting you keep everything in one place. You can < Add a Show > manually to your calendar for any Venue that is booked off the platform, but still keep it on the same calendar for you and your team to view. However, you won't have many of the streamlining tools like automatic payment, cancellation policy protection, and a contract with all of the details.
Can my bandmates (or clients) see this?
Only if you want them to. We have user permissions that allow you to add in key people to view messages, contracts, and calendars. For now, you will be the only person who can manage payment account information for your protection.
Do I get paid in cash after the show?
Musicians have repeatedly told us that waiting to get paid in cash after the show was the worst part about live gigging, so on AmptUp, Musicians get paid immediately after the show for flat fees, and with a single click for ticket or bar sales (just enter quantity). No more hanging around till 2am, or driving across town for a check, just simple, easy, payments for both sides. Musicians tell us it is the easiest payment they have ever received.
Will this help my pitch stand out?
That's our goal, but at the end of the day it's about the relationships you build and the persistence you bring to your work. A successful pitch still requires a bit of research and finesse, but our tools streamline the process so that a Venue isn't wasting time chasing the information they need to book you. Sign up for our newsletter to get the secret tips and tricks we've gleaned from hundreds of hours of one-on-one interviews with the masters of the industry to learn how to make your pitch stand out.