Since COVID is over… can we say that?
Fingers Crossed. Deep Breath.
With COVID largely behind us…we need to start reevaluating the "desperate times call for desperate measures" efforts that Venues everywhere made to stay alive.
During the peak of the COVID-19 pandemic, seating outside wasn't just an option, but a necessity… to earn at least some profit while adhering to safety guidelines. We want to take a look at the 'Street Seats' Structures that provided vital outdoor seating and see how they can IMPROVE Venue business, instead of block it.
Everyone Likes Outdoor Seating, What's the Problem?
"Street Seats" parking structures provide important additional seats for revenue, but in many cases that we witness, also often completely block the businesses that they serve – not only the front door, but generally the windows and even the business name signage…and even more importantly, the view of customers inside eating and drinking – which serves as critical social proof – the invitation to come in and do the same.
And unfortunately, many of these structures also block the view of patrons enjoying their food and beverage inside the structure (due to opaque plastic or wood), or they sit empty during winter months.
The big question is are those COVID outdoor seating structures helping or hurting your business? (Note: we are not talking about parking structure seating that sits on a side street and do not block a corner restaurant's view.)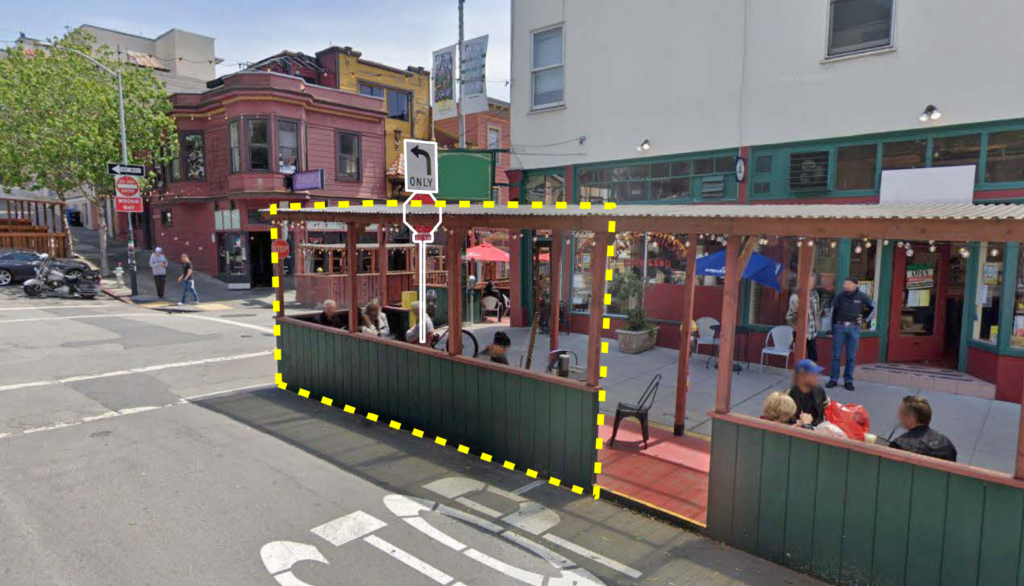 Europe vs. America on Outdoor Seating
In Europe, outdoor seating is practically a must-have for all Venues. Wide sidewalks downtown and no-traffic zones mean that every morning they roll out their chairs and tables on pathways that are 20-40′ wide (or 6-10 M) – compared to 8' (less than 3M) in America (We enjoyed wide sidewalks once too! Be sure to catch the video of the Victorian Era lady having a Marilyn Monroe moment at min 1:20).
Unfortunately in America, cramming diners up against the noisy, splashing traffic, leaving narrow sidewalks for pedestrians to squeeze past is a 100% US experience; but it doesn't have to be that way. The "parklets," as some call them, give us a big opportunity.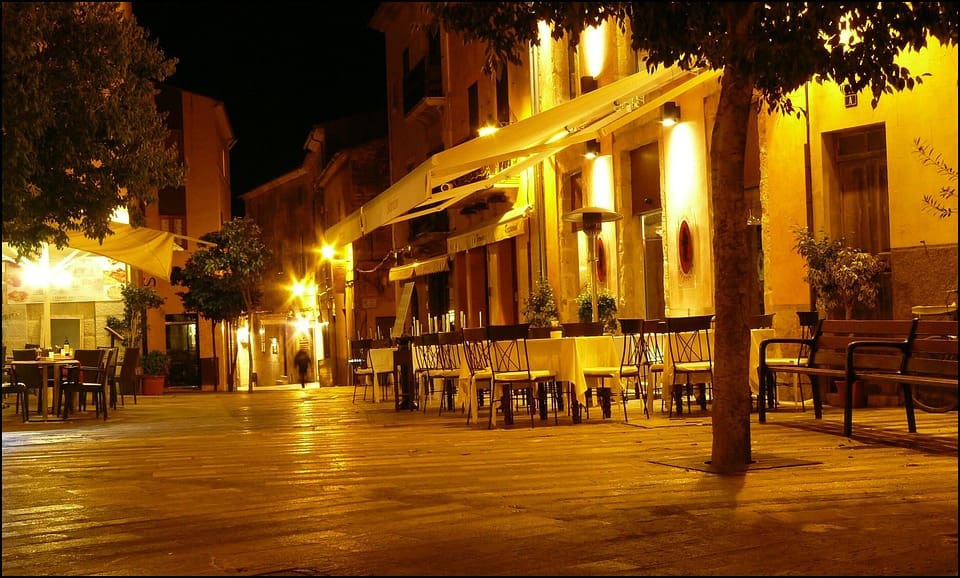 How to Get the Parking Patio of Your Dreams
Since many in the business community have fought hard to get the right for these parklets, and if we're taking inspiration from Europe, let's look at how to make it better in the here and now.
Chop off the top…that's right, just chop it off
The main problem with these parking structures is that it blocks your business, AND the "social proof" benefit that passersby get when seeing other people inside. (And outdoor diners are often not visible due to opaque walls and plastic) You can protect diners from traffic splashes and exhaust with a lower-level wall or planters, while still making it inviting.
Try to keep walls or planters to no more than chest high for the seated diner, to preserve visibility of your business and happy outdoor diners.
Consider renovating
Does your parking seating structure match your brand? If not, consider a few improvements to make outdoor diners feel as special as the ones enjoying your carefully crafted ambiance inside. (Unfortunately, these spaces are hard to protect when business is closed, so keep tagging, theft, breakage in mind in terms of replacement cost.) Here are a few ideas that won't break the bank:
Try adding some fun tile to the walls or floor
Remove the walls and replace them with lower level planters
Add your business name & messaging to the OUTSIDE (street side) of the planters or walls
Start with a coat of paint, which can go a long way (keep extra on hand in case you get tagged)
Remove the roof and replace with a few poles to string lights across to your entrance (check city regs) to draw attention at night.
Here's Some Inspiration…
In Portland:
Cafe Nell literally rolled out the red carpet, and put extra thought into their Outdoor seating structures, creating a street parking patio and sacrificing their entire parking lot, but also increasing capacity by 3 or 4 times.
Not only are there red carpets, but also adorable cafe style tables and chairs, hanging plants, a fountain (to drown out road noise), chandeliers, and even a beautiful big bar in their lockable parking lot conversion.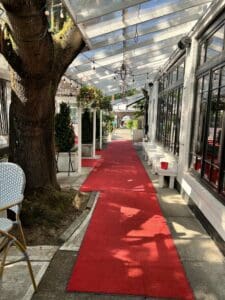 In Boston:
Take a look at this Boston Venue (Lolita Back Bay – we salute you!) with gorgeous outdoor seating that seems to slow down traffic, and take advantage of the trees on a hot summer day. It looks more like a beautiful home patio than a box to prevent people from disease.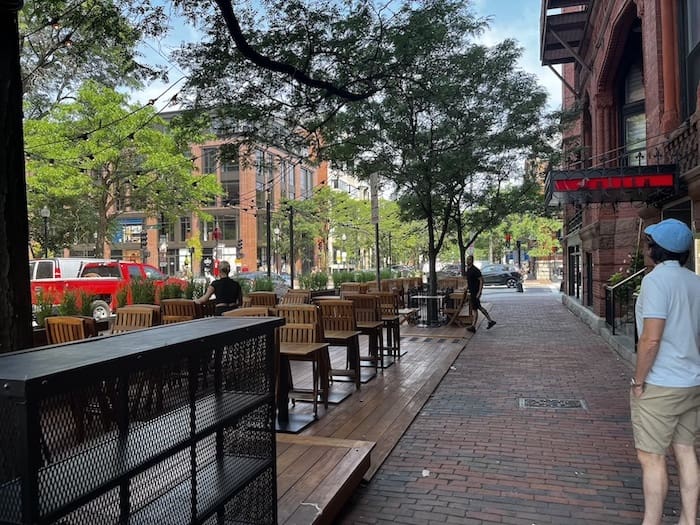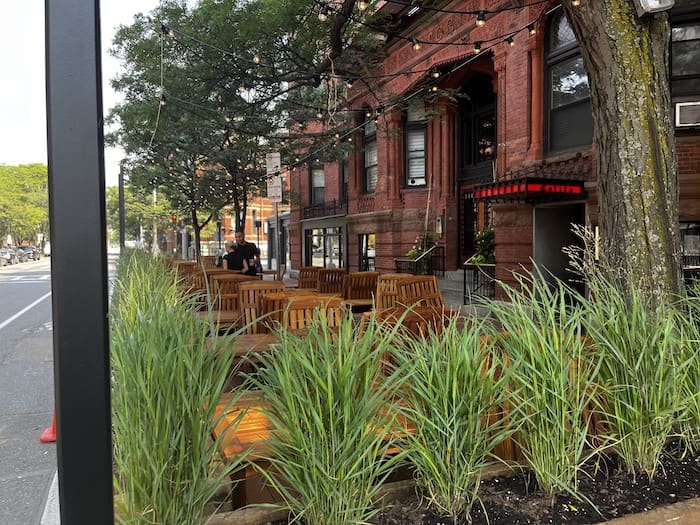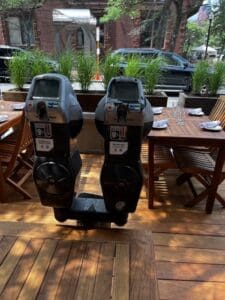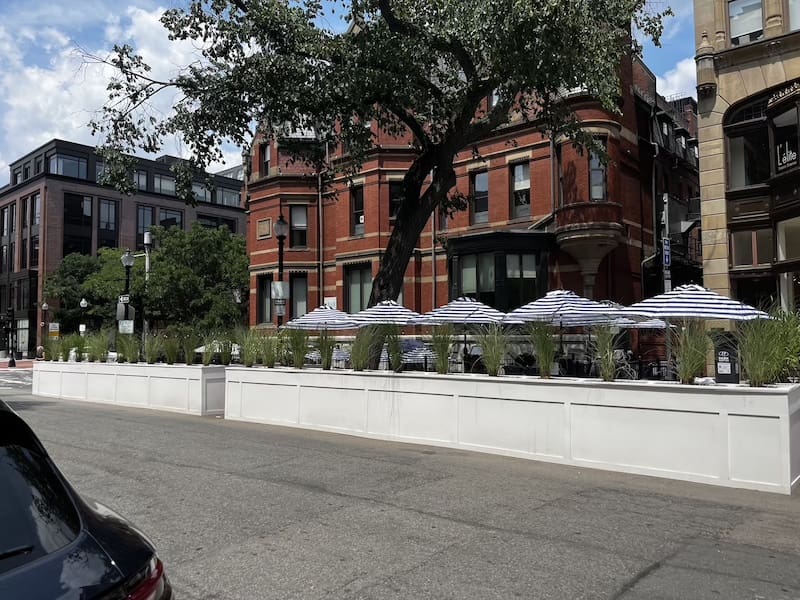 REFERENCE: What are the Costs for Venue Outdoor Seating
During COVID the added revenue from patrons who would not have come, if not for the outdoor seating, made the "street seats" parking structure a no-brainer.
Here are some ongoing costs to consider:
Weatherproofing and maintaining for winter dining, with heating (fuel) and protection from rain.
Also, if you use your outdoor space for live music events. Cities like San Francisco require you to get a permanent or temporary entertainment permit for the outdoor space.