Skyrocket your sales with
live music.
All the tools to effortlessly find and book musicians quickly and easily, without the stress, in one live music booking platform for Venues.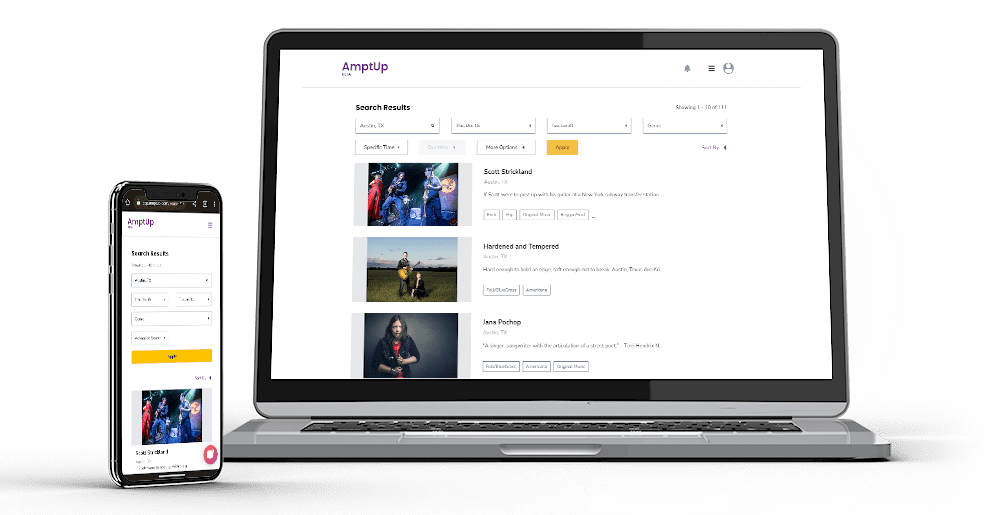 Be a curator, not a copy-paster.
Spend less time moving information from one platform to another. Spend more time booking the acts you want.
Pay from anywhere.
Right away.
Automatic payments to musicians means you don't need to be on site and they don't need to wait around to get paid. No more leaving blank checks at the bar…
Find & immediately see the availability of local and touring musicians outside of your normal circle. Book them and bring new faces through the door.
Better relationships with talent.
Simple, clear contracts with full visibility for everyone. Immediate exchange of promotional assets. Stop the back & forth, start promoting the show.
"No BS – I think you're really solving a problem for venues. "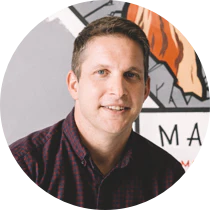 Madrone Mountain Coffee, Austin Venue
Find, Book, & Build relationships with Musicians.
Are you juggling 10 different systems to book each show (FB messenger, text, email, paypal, venmo, W9s, spreadsheets, google calendar, etc.)? 
You may be the boss, the curator, or an artist yourself, but one thing is certain… Your time is better spent on other things.  Keep it all in one place in our live music booking platform for venues.
Forget W9s forever – we handle them
We use Stripe, the global leader in payment processing, which captures all tax reporting data. And just like using Airbnb or Uber, you – the buyer – are not responsible for processing W9s anymore – we are.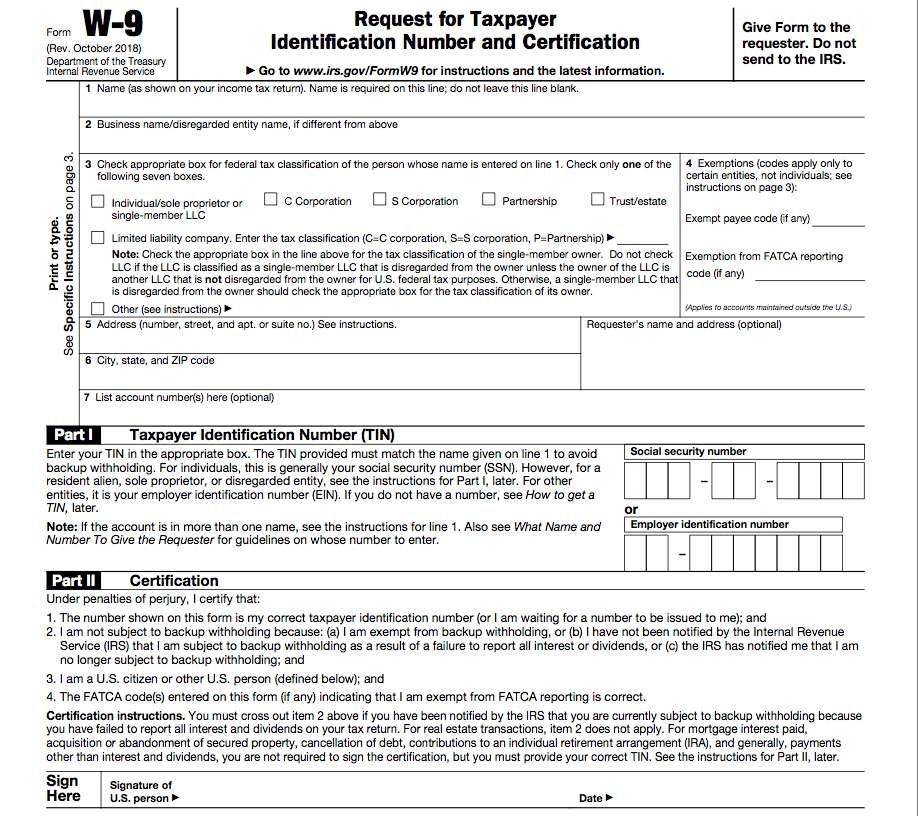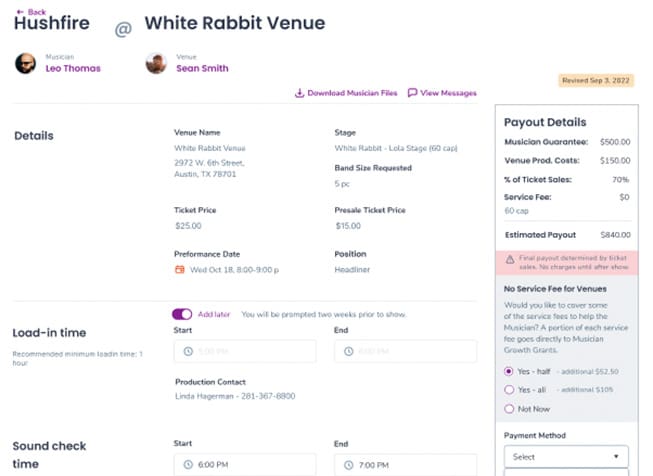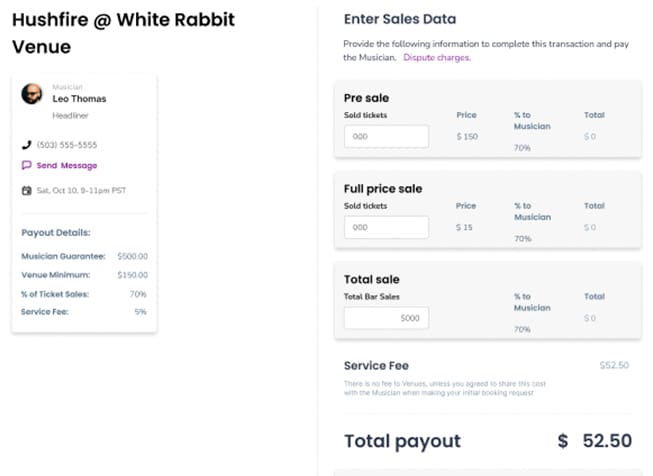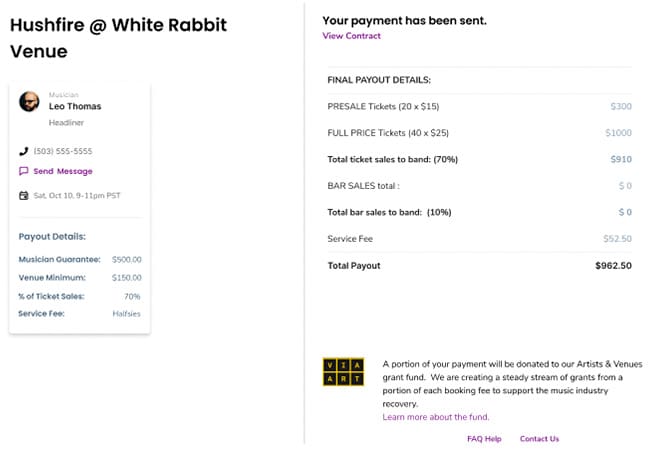 Pay easily with your credit card
Or have your bar manager do it with a single click!
Pay Musicians based on flat fee, ticket or bar sales, and/or a guarantee. We're the only live music booking platform for venues that gives you this option. You can even subtract the house nut!
And, musicians LOVE easy payments.
Get Musician marketing assets and stage plots instantly
Stop chasing stage plots and marketing photos; start promoting and advancing the show as soon as it's booked. You'll automatically receive Musician assets, and they get yours too, reducing the amount of copy/pasting that clutters your work.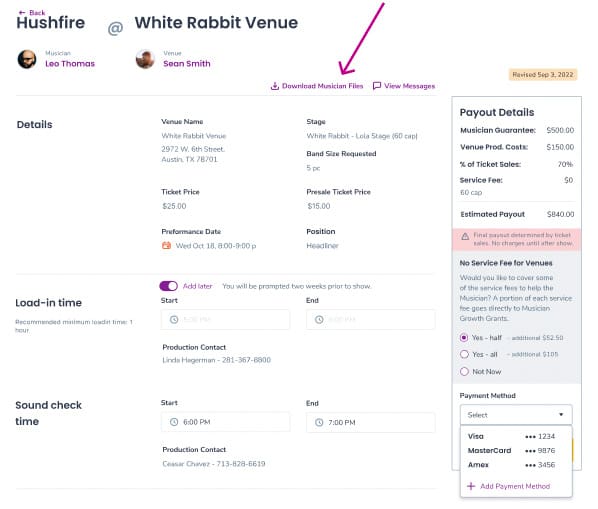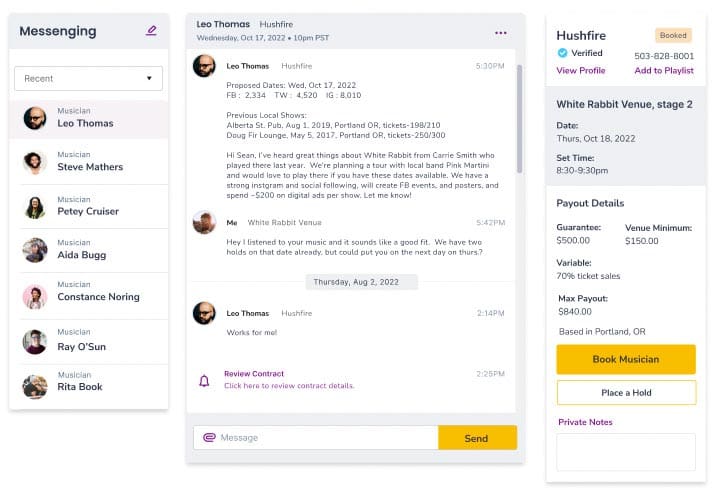 Keep key people on all messages, all the time
On AmptUp, key people get messages all in one line with the most important details sitting to the right, every time (date, time, cost, contact).
Goodbye "reply-all," somehow, someone always got dropped.
Other live music booking platforms don't meet your needs
| | Amptup | GigSalad | Indie on the Move | Reverbnation | Prism | Sonicbids | GSuite |
| --- | --- | --- | --- | --- | --- | --- | --- |
| Totally Free | ✅ | ❌ | ❌ | ❌ | ❌ | ❌ | ✅ |
| Find Touring Musicians | ✅ | ❌ | ❌ | ❌ | ❌ | ❌ | ❌ |
| Easy Contract Every Time | ✅ | ❌ | ❌ | ❌ | ✅ | ❌ | ❌ |
| Pay Musicians Online | ✅ | ❌ | ❌ | ❌ | ✅ | ❌ | ❌ |
| Flat-Fee or Ticket/Bar Sales Payment | ✅ | ❌ | ❌ | ❌ | ❌ | ❌ | ❌ |
| Manage Multiple Venues at Once | ✅ | ❌ | ❌ | ❌ | ❌ | ❌ | ❌ |
| Automatically Receive Advance Details | ✅ | ❌ | ❌ | ❌ | ❌ | ❌ | ❌ |
| Invite Your Team | ✅ | ❌ | ❌ | ✅ | ✅ | ❌ | ✅ |
| Manage ALL Your Gigs in One Place | ✅ | ❌ | ❌ | ❌ | ❌ | ❌ | ✅ |
"Through their economies of scale, and consolidation, companies like Live Nation are starting to CONSUME small venues – you are the antidote…As an industry, we must come together. We have seen in the passing of the SOS act, that it is only through the solidarity, unity, and mutual support that we will survive. Connecting the entire ecosystem makes everyone stronger, if you focus just on one constituency and one issue, you're leaving everyone else behind."
Does AmptUp broker the deal and choose the bands, or do I?
You have direct access to the bands and will curate who plays at your show. You choose and communicate with the band just like you always have. Our booking platform for venues simply provides the technology to make your current process smoother and faster, giving you more time to plan and promote the show.
Can I still book my favorite bands off the platform if they don't want to join?
Yes, AmptUp was specifically designed to give you the most flexibility, while still letting you keep everything in one place. You can < Add a Show > manually to your calendar for any Musician that is booked off the platform, but still keep it on the same calendar for you and your team to view.
Can my team ( or clients ) see this?
Only if you want them to. We have user permissions that allow you to add in key people to view messages, contracts, and calendars. For now, you will be the only person who can book a Musician, to protect your payment information.
Do I pay in cash after the show?
Musicians repeatedly told us that waiting to get paid in cash after the show was the worst part about live gigging, so on our booking platform for Venues, Musicians get paid immediately after the show for flat fees, and with a single click for ticket or bar sales (just enter quantity). No more back-and-forth with accounting, or giving venmo logins to the bartender to pay the band. Simple, easy, and trackable for both sides. Musicians tell us it is the easiest payment they have ever received.
I already get a ton of Musician pitches, how can this help?
Post your profile link anywhere Musicians will see it (on facebook, on your website, in your Venue), and direct all pitches there. Then, you will have an easy apples to apples comparison of every Musician that reaches out, and you won't lose any in the shuffle.
How do you get past ticket sales data? Is it manually entered?
Past ticket sales data is collected automatically and displayed on their profile for any show booked on AmptUp. When Musicians were paid based on ticket sales, we can share that data with the people who need it. But what happens if there was a snow storm that day? How will I know? Well, you can ask them! You have the ability to communicate at any time with them. Currently the only place to get past ticket sales data is Pollstar, which is famously clunky and inconsistent because Musicians, their Agents, and Venues are required to manually enter it (and pay a subscription for the privilege).
What happens if I need to cancel?
Our policy takes care of both sides. Venues can cancel at any time for bad weather, COVID (ie: closure due to staff infection or missing staff), business closure, or force majeure.
The ultimate live music booking platform
Your process is good because YOU are good… Now get the technology that gives you the power to do more every day.​