For Independent Venues: How to Market Your Live Music Event (Part 2 of 4)

Working in this industry is INTENSE, and you need to get results with minimal time in front of screen. After you have the basics in hand, and are regularly doing them every week. Start improving and diving a bit deeper with these tips, in just 15 minutes a day. Here is your 1 week plan to increasing foot traffic and revenue. Remember to ensure you have covered the basics from Part One
---
Day 1: Improve word of mouth promotion
In 15 Minutes:
Search for influencers on social media in your local area – people that have 10,000+ followers on Instagram or Facebook. Direct message them through their social media and offer them free tickets + 2 free tickets to give away to friends or through their social media account. Find someone with a huge number of followers and they may be blasé to your offer. Scale down a bit, and your offer will feel like a welcomed gift. Be sure to ask them to post a selfie at your Venue and tag you.
How do you find them?
Scan your own followers, maybe there's an influencer among them. If not, go to the next level. Click on a few of your followers, click "following" at the top of their profile, scan the list, and hover on each one for fan counts.
Do a local hashtag search to find out who's putting out the most relevant local content. Searching like this may also pull up some other recommended hashtags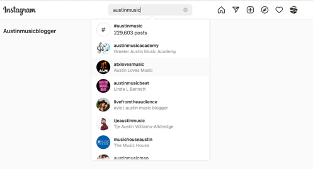 ---
Day 2: Measure your best marketing efforts with unique tracking links
In 15 minutes:
Set up tracking links with this Eventbrite guide, or use Promotix that has robust tools to actually create an entire street team and track things like each poster that is posted, as well as their ticketing tracking links.
Why?: You can't manage what you don't measure. How do you know if the money you spent on posters is working? Or, if the band is actually bringing in the draw they promised? It's surprisingly easy to create unique tracking links, so you can put a different one on each marketing channel (one for Facebook, one for posters, one for the band, etc.)
---
Day 3: Grow your email list
In 15 minutes:
Drop in the Mailchimp embed code for email sign up on your website (here's a tutorial)
-or- use the integration from Eventbrite to Mailchimp to download all ticket-buyer's email information, to automatically add their info to your list. You can also manually download these lists each time, which we don't recommend.
-or- have an in-store promotion for a limited time. Create a give-away or drink discount for anyone that signs up.
Why?: 1,000 Eventbrite creators responded to a survey saying email was the most effective event marketing channel. And since Facebook and Instagram can change their algorithms without warning, making it harder and harder for you to connect to your audience without paying, we agree that building your email list is the best option.
Free tool: Mailchimp & Eventbrite
---
Day 4: Create an incentive to buy
In 15 minutes:
Decide which event will get the special treatment, and don't do this more than once every week or two. Choose an event, a date, and an offer. You can do this in 2 ways: first you can offer giveaway items, like free t-shirts, free drinks, time with the band, priority line entry, which may not cost you anything, or just a few pennies. Or second, you can discount your tickets for an early-bird price which may be easier to coordinate, but cost you more money.
Why?: Early ticket sales account for 40-50% of ticket sales according to Eventbrite studies of nightlife events. Think of how helpful it will be to have cash in hand to plan your event and pay vendors. Additionally, those people have more time to invite their friends, communicate with you, and will give you a chance to invite sponsors for your event with confirmed tickets. Once people have bought a ticket they're much more likely to attend than someone who waits until the last minute to buy, where any number of things could come up.
---
Day 5: Treat your customers like VIPS, literally.
In 15 minutes:
Add a VIP ticket tier or add-on to your next big event and instantly increase your profits. VIP perks could include, a priority entrance, a meet & greet with the band, even a private song with the band (if you have a separate/intimate space that could be used), pre-post drinks/dinner with the band, the band's album signed, priority drink order line or dedicated server, a 2 'free' drinks, 'free' or exclusive merchandise.
Why & How?: VIP perks can cost absolutely nothing, but have a big bang for the VIPs. It can have a double benefit for the band of creating loyal fans (make sure you approve anything with the band first). A VIP experience is something that can create life-long memories for the guest, as long as the value you offer matches/exceeds the price and you fully deliver on the promise.
---
UP NEXT: Part 3 of 4
How to make your music program more profitable
---