Knowing how to increase ticket sales on Eventbrite is essential for Independent venues.
There are a lot of ticketing tools out there. A LOT. We are ticketing agnostic, but since many of you are using Eventbrite, or contemplating using it, we want to show you how to get the most bang for your buck.
(Looking for ticketing software? We found this insanely long list of options.)

I know…I do it too…
I usually sign up for a tool and learn the bare-minimum necessary to make it function and do the one thing I need it to do.
Ie: "Eventbrite, I need you to sell tickets when someone clicks the link. Do that and we'll be good."
I treat these Jetsons-style modern technologies like they're wall-hanging phones and can do only one thing.
But, I've learned over the years that tech companies are spending millions of dollars and hours to make this tool incredible and unbeatable for…ME. To make my life easier…if I'd only let it. So, let's collectively make the shift to invest our time and energy in a tool and make it work hard for the money! Let's dive in.
---

According to Eventbrite data, the sales peaks should be one of the most important determining factors of your event marketing lifecycle. 
Understanding what these are when they occur is a key factor to increasing ticket sales on Eventbrite.
The stages of the ticket sale process:
(per Eventbrite)
Announcement phase
On-sale phase
Maintenance phase
Closeout phase
Here is a breakdown of the ticket sales peaks, for the biggest event types.
Festivals – 15% of tickets are sold during the first week, 1% of tickets are bought during the ticket-release stages in between, and 24% during the last week. Based on that information, you as a venue owner or a festival organizer can distribute your marketing budget more effectively.
So, for the festivals – especially ones with tiered ticket pricing, the ad spend would be ideally broken down like so:
Announcement – 10%
1st tier ticket promotion – 30% on-sale
2nd tier ticket promotion – 10%
3rd tier ticket group – 10%
Family-friendly events – Families tend to plan things ahead. For this reason, you should focus your advertising effort on trying to boost your ticket sales in the earliest stages (the event is announced, and the first tickets go on sale.) The remaining ad budget goes equally to the maintenance campaigns and closeout ads.   
Nightlife or weekend events with last-minute fans – Among 2,000 Americans Eventbrite included in their survey, 43% plan their night out up to 3 days in advance, from Wednesday onward. Most of the survey participants, 19% of them, plan their night out on Thursday.
Comedy shows attract last-minute ticket buyers– On average, they sell only 6% of tickets in the first week. The overwhelming majority of tickets – 75% – are sold during the last week. Even more surprising is that 31% of comedy show tickets are sold on the day of the event!
Now that you're familiar with when most tickets are sold, let's dive into ways to boost your ticket sales during peak periods.
---
1. Add Eventbrite promotion codes & bundling
People love a good deal.
Finding a good deal or being the recipient of a good deal makes you feel special – like an explorer that found a treasure, lucky (and everyone loves that feeling), knowledgeable, or even loved for your loyalty. So, starting with the easiest tip and tool: create a promotion code directly on Eventbrite to maximize that feel-good feeling.   
This is a key element in figuring out how to increase ticket sales.
While it may seem counter-intuitive, price discounts can increase ticket sales on Eventbrite, and your revenue too. However, think about your goals for having and using promo codes so you don't run the risk of creating extra work for yourself AND losing revenue. The goal may feel obvious: boost your ticket sales. But it may also be to increase loyalty or reward evangelists.
Strategy: Ways to use a promo code?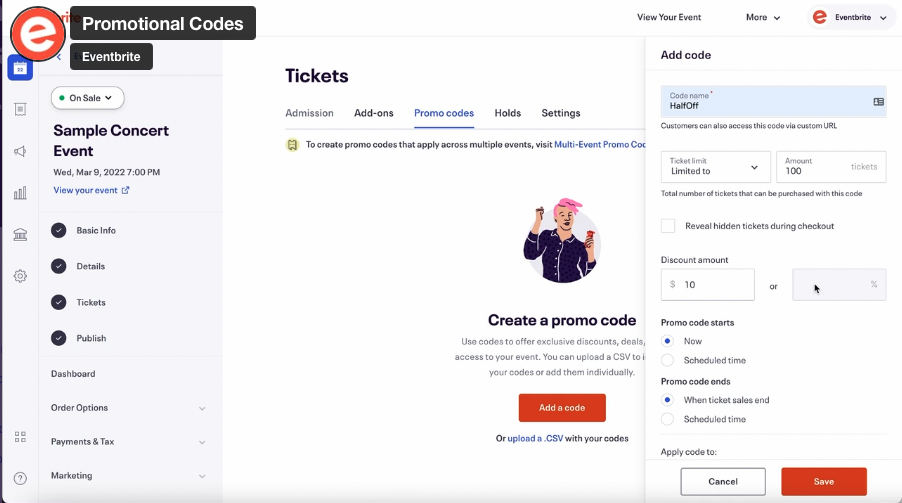 Create promo codes as an early bird discount, as a flash sale (perfect around the holiday gifting times), for off-nights, or by creating hidden offers that only VIPs can access
(maybe these are members of a loyalty program, influencers you want to win over).
Perhaps you have a VIP club of fans, and after their 5th show, they get a promo code that opens secret tickets with benefits. Maybe you want to invite key press or influencers and want to treat them to a special VIP experience with FREE drinks – create a unique code just for them – here's how. 
---
2. Add a retargeting pixel to the Eventbrite ticketing page to track interested window shoppers
Retargeting, especially setting up retargeting audiences from all the platforms you use, might sound scary. BUT. "Retargeted fans are 70% more likely to buy tickets", Eventbrite research reports!
Since this is one of THE MOST USEFUL things you can do to push your marketing to the next level, let's break down why to use it, how, and what you need to start a retargeting campaign for your event.
Retargeting enables you to show ads to window-shoppers, i.e., the people who saw your ad or landed organically on your website, the Eventbrite event, or Facebook event pages, but didn't buy a ticket or RSVPed. A little cookie will follow them out of your site and keep the anonymized data on every user and their actions (more on this in a minute.) The best thing is, the Facebook pixel, for example, will track all interactions on your business page, FB event page, or website and all your integrations (from Eventbrite pages to simple registration forms) so all your contact points with a potential customer are covered with one tracking pixel, visible in one activity dashboard
How to create a tracking pixel and what it can do
This process is a bit more involved. First, you first need to create a pixel if you don't have one, and then you can create ads on Facebook, Twitter, or Google targeting your window shoppers by connecting the ads to those who have been on pages with your pixel.
Once you have a tracking pixel installed on all your major marketing points, you'll also get a wealth of data on people who visit your website and event pages, including how many people added it to their calendar, looked you up on the map, initiated a purchase but didn't finish, and much much more. This concrete data enables you to build better campaigns in the future, see where your bottlenecks are, and even how people behave on your landing pages.
The most common, and by far the easiest, way to add a new tracking pixel (if you already don't have one) is to create a Facebook pixel. However, you can create tracking pixels for your ads with Google, Facebook/Instagram, Twitter and more.
---
3. Connect with Fans through Email marketing on Eventbrite
You'd be surprised at how many Venues don't use their email list as much as they should or at all.
Many are worried about annoying their audience, or just don't have the time to create the emails, but even if all you do is send out the email flier, date, and time, you're a step ahead. Remember to think about the sales cycle for your event and send out reminders.  
If you set up an email campaign once, you can automate it and reuse it for future events, so you won't start from scratch each time.
You'll need:
One email to announce the event
One to tell your fans that tickets are on sale and where to buy them
A final one to remind them that event is in, say, three days.
For the next event, you can copy this campaign in Eventbrite and only change the details to fit your new event.  
A word about Frequency…
There is a legitimate concern about overloading your fans. So, be cautious. Here are two suggestions.
The best is to let the fan choose by providing subscription options that are clear (i.e.: genre preferences, frequency, or types of events.)
Start by sending out an email every 2 weeks with a list of events, instead of sending out emails for each event. You can increase frequency and gauge response.
---
4. Let Fans Buy tickets directly on the Facebook event / Instagram Ad
You want to go beyond awareness and into action when selling tickets.
Meaning, that we want to make it as EASY as possible for people to buy right when they're thinking about it. And remember that your audience may not be on Facebook all the time or may not be paying attention…so if they see an ad only once, everyone except hard-core fans will forget about it.   
While you should share your Eventbrite event page on all your social media in order to boost your ticket sales, a key step is to ensure they can buy tickets without ever leaving the experience they're enjoying (endless scrolling of political opinions and friends' baby photos in bed next to their sleeping partner). Or is that just us?
While you want people to know about your event (the awareness phase) the practical goal is to get them to buy tickets. And, if they see an ad only once, everyone except hard-core fans will forget about it. Here are several ways you can remind them of your event later:
How To Let Fans Buy Tickets Directly from the Facebook Event Page: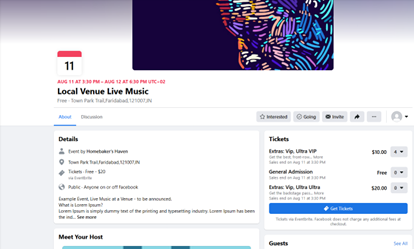 Add your event to Facebook using Eventbrite's integration "Add to Facebook". You'll get the ticket sales at once (if you activate "tickets on sale") and it's an ideal time to start the RSVP campaign. Any time a fan RSVPs it gets is shared with their friends, spreading your reach.
First, connect your Facebook account and allow Facebook permissions to Eventbrite
Tip: You need a published or scheduled event page with the description and venue address to continue. Your Facebook page also needs to be published.
Go to "Marketing", then click "Add to Facebook"
As you can see from the image below, a choice to buy a ticket is instantly visible on the event page.
Also, always share your Eventbrite event page on all social media in order to increase ticket sales.
---
5. Increase ticket sales while keeping fans on your site by using the Eventbrite widget
Like a cat with a laser, every time a person switches tasks, tabs, or websites, it's a chance for that person to get DISTRACTED.
("What – who just texted?" "Oh – the laundry buzzed; I'll just check it really quick." You know how it goes.)
And then your ticket sales are dead in the time it takes for the page to load.  
The moment they check out the event is the best time for them to buy tickets and doing that on your site is the best way for you to boost ticket sales.
Use Eventbrite's embedded checkout widget, where people can view, select, and buy tickets without even leaving your beautiful site. (the finished product will look like this >>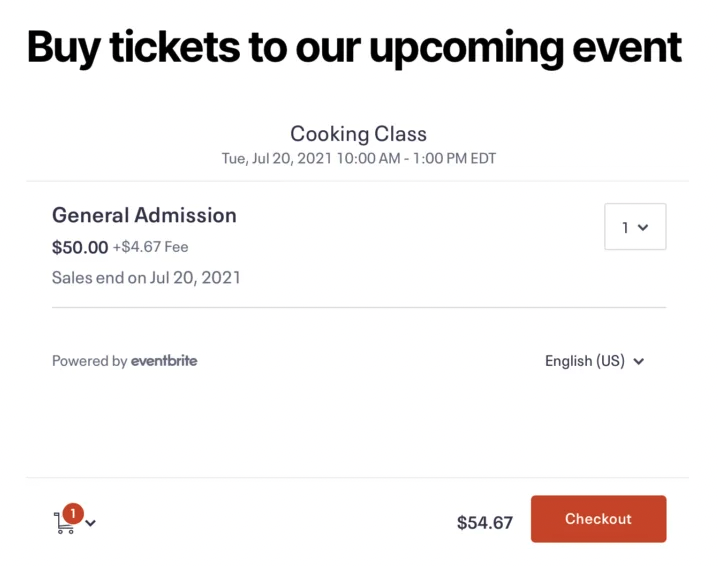 ---
Pro move #6: Pay a bit more to streamline the full Eventbrite experience
We added this tool in as a bonus because, while it does cost $50/mo., it simplifies most of the steps covered above and gives you one of the most powerful and fully automated sales weapons to increase your ticket sales on Eventbrite.
First, you get the data on how and when to promote your event, based on ticket sales timings from your and other event organizers' past events (anonymously collected).
Next, Eventbrite Boost recommends a schedule for your ads and promotions based on the stages of ticket sales we mentioned at the beginning.
Third – you have full control over your audience. You can create a remarketing and lookalike audience just by linking with your FB/Instagram pages, MailChimp or Spotify. This feature alone is a huge time saver, and automated advertising based on the sales curve not only makes sense but as case studies show, helps event organizers increase ticket sales.  
Here are a few more convincing stats:
Music promoters increase tickets by 28% after using Boost to advertise their events.
This company 3x'd their ROI: "For the Love of Carnival" ads delivered huge results: the campaign generated a 3.4x return on ad spend. For every $1 he spent, he made $3.
TAG tapped into Eventbrite's audience of engaged ticket buyers looking for something fresh. "For an upcoming concert, 22% of current sales, or 1444 tickets and counting, were driven through Eventbrite, bringing new audiences to the venue.
It also has:
Email marketing, on steroids (their claim!)
Automated FB/Instagram scheduling of posts alongside publishing and customizing ads
Sales curve based on your earlier events, and statistics they collected anonymously from all other event organizers
---
Our Sell-More-Tickets Series is over
UP NEXT:
Increase revenues, and make your events more accessible to fans with hybrid virtual events
---
---