How to Plan a Music Tour: AmptUp's Tour Routing Tool
When you're deciding on how to plan a music tour, the challenge is often finding the right tools to make it happen.
The dream is to create a geographically-targeted tour that meets the needs of your band, takes into consideration your audience, and gets you the most bang for your buck. Finding suitable Venues along the route you're planning to travel along has always been the hard part. And there has been a lack of available tools to help.
Until now.
More and more musicians are turning to AmptUp's Tour Routing Tool, a game-changing platform that gives you the edge you need to plan a music tour.
We've done everything we can to help take the mystery out of touring, and this tool is at the heart of the work we've done.
AmptUp's Tour Routing Tool gives you access to more than 7000 live music venues across the US when planning a music tour.
You can use the map feature to easily pinpoint venues in the cities that you'd like to visit. Then you can create a custom pitch list with contact information for each one. Whether performing solo or with your bandmates, you'll be able to plan a music tour from point A to B, even to point C and beyond.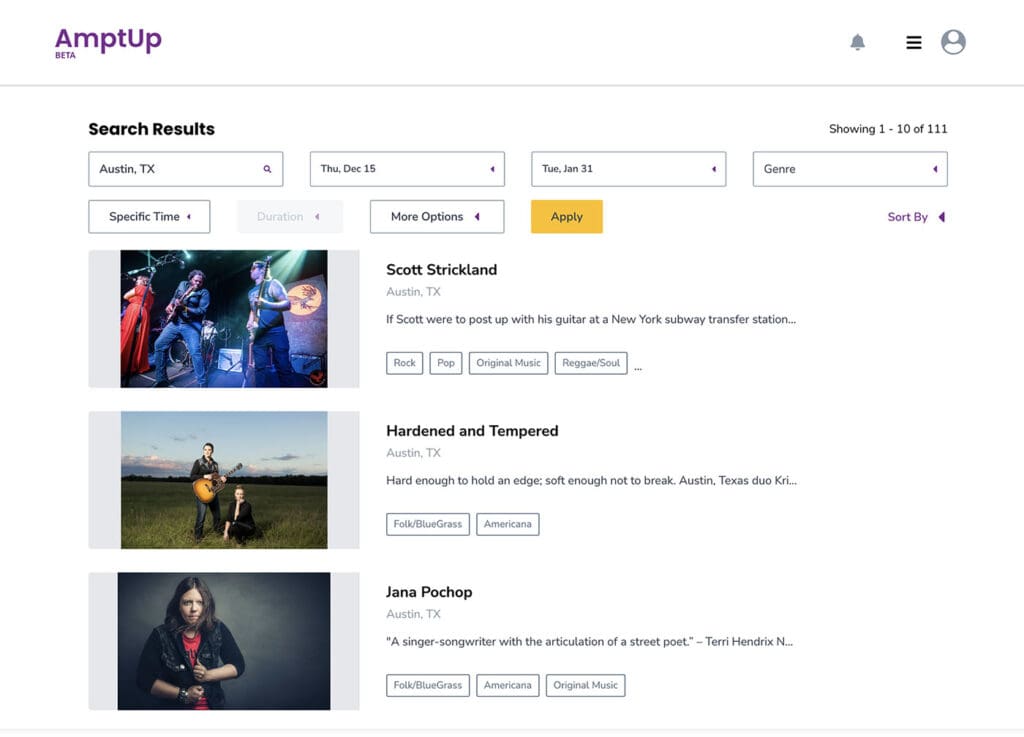 When deciding on how to plan a music tour for your band, our tool has searchability at its core.
Not only can you search for venues using laser-targeted filters, but venues searching in those cities will also be able to find your name in the search results. This is a key advantage— it's the only place on the internet that venues can find touring bands before they announce their tour schedules.
Figuring out how to plan a music tour just got a whole lot easier.
The ease of use doesn't end there.
Inside the Musician Dashboard, you can stack up multiple tours and view key info such as start dates, number of locations, and starting cities. You can also add shows that have been booked off the platform right here, or in your calendar.
The additional TRT Dashboard gives you the ability to name your tour, apply filters such as Venue type, genre and capacity by stage, and customize a travel radius for each stop. Plus, if you find a venue that you're interested in, you can check out their profile which includes the genres they represent, the number of stages and capacity, the social media links.
You can even see the equipment they have so you know what you'll need to bring.
When you're ready to pitch an AmptUp Venue, you can use the Messaging Center to communicate with them.
This gives you more detailed information so you know what's at stake and what you're negotiating. Plus, when an offer is on the table, you can see it all in one place, and it even goes onto your calendar with the click of a button.
Communication with Venues is key when planning a music tour.
Demystifying how to plan a music tour
AmptUp's Tour Routing Tool is an invaluable asset for musicians figuring out how to plan a music tour and take their music on the road.
With its detailed search filters, customizable pitch lists, and easy-to-use messaging center, the tool we've built into our platform that takes all the guesswork out of planning a music tour.
It also gives you access to more than 7000 venues across the US, ensuring you can find the perfect places to show off your music.
Whatever your touring plans may be, AmptUp is the first step to making them a reality.