When I gave birth to a beautiful – but unexpectedly – biracial baby, everything I thought was true slowly started to unravel.
I was born in a Fredericksburg trailer park to a sign man and a young mother. From morning to night services, my life and community was the Pentecostal church – I even had my first make-out session on the bench out back. There were almost no Black people in my area growing up, and while my parents raised me to be "colorblind" (a white person's favorite term), it was clear that they could still see color.
During a brief hiatus from a 2-year relationship with Jason, a white man, I spent time with the baby's father, a Black man I had dated off and on throughout college. I rekindled the relationship with Jason, not knowing I was pregnant. Despite being in a long-term committed relationship, it felt impossible to tell the family that I may have a bi-racial baby. Every time I prepared the news, some family member would make a comment like, "Well, at least we're having a white baby!"
On delivery day, after a treacherous birth, there was a little red-headed baby born at the same time in the ICU area. When Jason came out holding my daughter, no one said anything, until my great grandmother said, "Alright if no one wants to say it, I'll say it – that baby is Black."
Fortunately, Jason truly loved her as his own.
However, with a healthy dose of my own denial, I spiraled into depression and began taking heavy medication.  I so desperately wanted to avoid other people's drama and judgment (ie: 'slut-shaming') that I told people, and even believed (possibly due to the medications), that she had Hispanic blood through Jason's side. On visits to the store, people would stop and stare and ask me if it was my baby. Others, even family members, would unabashedly call her a "half-breed." This seemed to be an acceptable term to that community, instead of bi-racial.
People often have realizations about the limitations of their own family or community, but my whole worldview began to shift.
I was pregnant with Bella when Obama was running for election, and my family had convinced me that he was the antichrist, that his eyes were black because he was the devil, that he was not a US citizen. It felt very scary, to the point that I cried when he was elected… but I couldn't see that his race was the root problem for his detractors.
Things started to feel confusing as I worked this and many other things out during the tumultuous political times. Tiny thoughts about what was right and wrong, about things that didn't add up, started working their way in and made me question the ideas I had been fed. The tiny thoughts can be the scariest because they can spark something big, something life-changing. Those little thoughts can start to pull you away from the people you love, your support system, and your community as you start to think for yourself.
You don't realize you can't breathe until you can.
As things started to change, I realized that I've never been comfortable with me, which meant I could never have or trust my own opinions – they were always fed to me. Over the last few years, I've been gaining my own power, thoughts, feelings, and self-respect. Now I get my worth from myself, but I had to be brave enough. That's what creates integrity – and no one can take it away from you.
Jeska's Best Advice
One of my favorite quotes is, "The anticipation is worse than the plunge."
One thing our world does well is make people feel alone. And, people stay silent for fear of alienation…more aloneness. Know that you are not alone and silence changes nothing. Bringing your best to the world means standing up for what you believe.
Become a VIP Venue to book Jeska on AmptUp before our launch on Mar 14, 2022.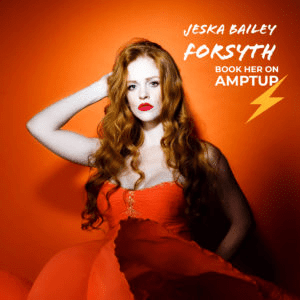 ABOUT THE ARTIST
Texas native, Jeska Bailey is a powerhouse musician with "honeyed, soulful vocals" (Glide Magazine). Jeska is a multi-instrumentalist, a trained opera singer, a fierce blues singer, a professional photographer, painter, and a three-time cancer survivor. She's appeared on Austin's "50th Anniversary of Woodstock" radio program and performed the national anthem on ESPN at the Texas Motor Speedway. Conspirators, her 2019 album with her husband, Austin legend Guy Forsyth, was toured all over the world, and she will be releasing her highly-anticipated solo release, Murderino, in late 2022.
Her 50,000 loyal Instagram followers are a reflection of her photography/modeling skills, but most importantly, her love of community.