Covid outdoor seating structures – can we say it?
I think we can say it. Deep Breath.
Since COVID is over…we need to start reevaluating the "desperate times call for desperate measures" efforts that Venues everywhere made to stay alive.
Try to say 'Street Seats' Structures three times. I bet you can't…and maybe that's a sign.
You see them everywhere, ever since COVID brutally hit us: wooden structures usually encased in plastic, taking up 1-2 parking stalls. Critical to survival, outdoor seating arrangements brought what little revenue they could to Venues back when things were bleak.
But what now? "Street Seat" parking structures completely block the businesses that they serve – not only the front door, but generally the windows and even the business name signage. And since these structures sat mainly empty through the cold winter months, they didn't even provide the benefit of showing people enjoying the business.
In spring and summer, do they stay or go? The big question is are those COVID outdoor seating structures (or the "Street Seats Program" in Portland) helping or hurting business?
(Note: we are not talking about "Street Seats" parking structures for corner restaurants and venues that do not block the front and sit on a side street.)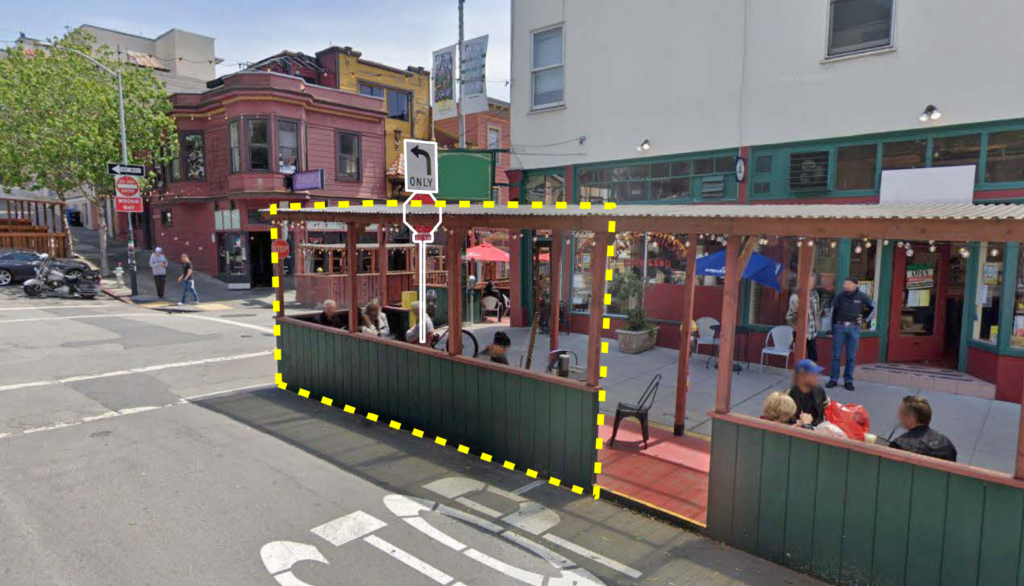 The Big Chill: How COVID Outdoor Seating Structures Are Freezing Your Profits in Winter…and Summer?
During the peak of the Covid-19 pandemic, seating on the sidewalk, curbside, or the parking lot wasn't just an option, but a necessity. Outdoor seating provided a way to earn at least some profit while adhering to safety guidelines.
However, in a surprising discovery last year, although outdoor seating structures seemed like the safest solution, research has shown that some structures could actually be worse for proper ventilation.
Europe vs. America on Outdoor Seating
In Europe, outdoor seating is practically a must-have for all Venues. Wide sidewalks downtown and no-traffic zones mean that every morning, they roll out their chairs and tables on pathways that are 20-40′ wide (or 6-10 M) – compared to 8' in America (We enjoyed wide sidewalks once too! Be sure to catch the video of the Victorian Era lady having a Marilyn Monroe moment at min 1:20).
But, we can't compare Chicago or New York with Paris or Rome. Cramming diners up against the noisy, smelly traffic, leaving narrow sidewalks for pedestrians to squeeze past is a 100% US experience.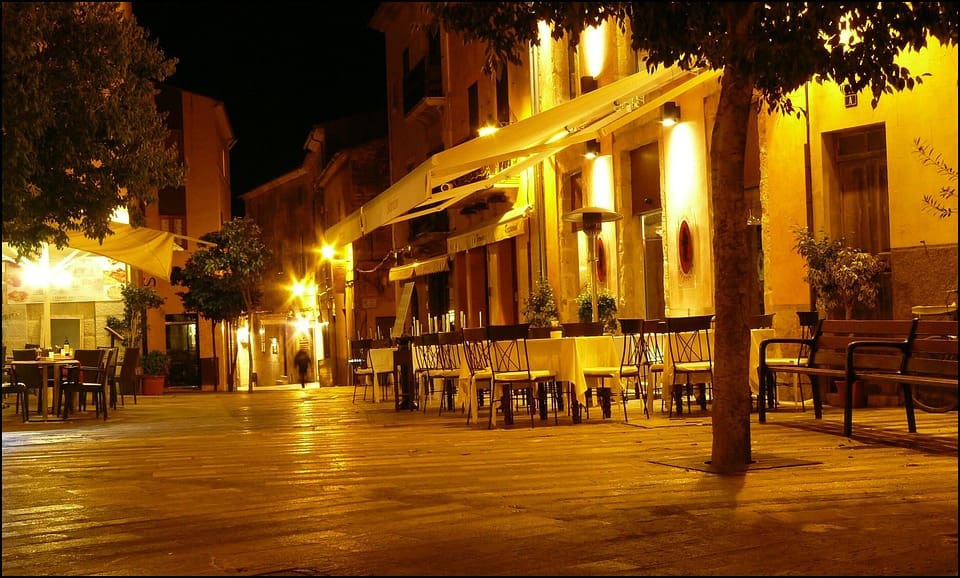 We Said Goodbye to Masks, is it Time to Say Goodbye to COVID 'Street Seats' Structures??
But, since the outdoor seating structures are already here, why not sit down in the one you have and calculate whether it should become a part of your Venue's cold and warm-weather business model. Let's see what the pros and cons are…
Question: Why are you covering your front door and window visibility?
To protect eaters from traffic, splashes, and engine fumes passing within inches of them, COVID parking seating structures look the way they do: as boxes that entirely block a business's brand, vibe, and offer. These boxes have walls, a chest-high window space, and a roof to keep eaters dry in flu-filled winters.
Which is fine, until you ask yourself – why am I blocking the view of my carefully designed exterior? Did you not look high and low to find a place in the best location, only to have it hidden behind see-through tents or outdoor extensions?
The "Location, Location, Location" mantra doesn't apply if nobody can see you. It's as if your Venue is operating from a back alleyway.
Calculate the Costs for Venue Outdoor Seating
During COVID the added revenue from patrons who would not have come, if not for the outdoor seating, made the "street seats" parking structure a no-brainer.
Here are some ongoing costs to consider:
weatherproofing and maintaining for winter dining, with heating (fuel) and protection from rain.
City permit costs (we'll use Portland as an example):

Application fee: $100
Base Renewal fee: $250
$105/linear foot = $2100 for the avg. 20 ft structure
Lost meter revenue: $2,000- $7,000!!!
Additional costs: $150-500
Also, if you use your outdoor space for live music events. Cities like San Francisco require you to get a permanent or temporary entertainment permit for the outdoor space.
But the bigger question is…what is the cost to your business to block your front door, windows, and signage?
Solutions to Help You Manage Outdoor Seating Areas
Chop off the top… that's right, just chop it off. The main problem with these parking structures is that it blocks your business, AND the benefits the "social proof" passersby get when seeing other people inside. You can protect diners from traffic splashes and exhaust with a lower-level wall or planters, while still making it inviting.
Move it to a side street if possible. Or hey! Is your neighbor's parking stall being used??? (joking)
Think long-term: Ultimately, the lasting key to success is to lobby the city to expand sidewalk culture to create more vibrant walking/downtown centers. This will create a safe and inviting environment for outdoor patrons and help your business. In addition, many more individuals, like musicians and other street performers, will gain a safe space and attract new audiences.